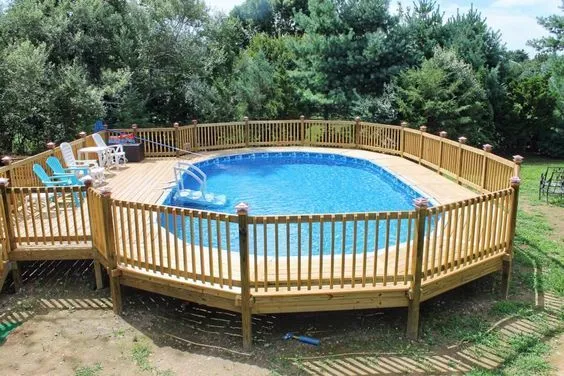 Above ground pools have been around for decades. They're a great option for people who don't want the hassle of maintaining an in-ground pool but still enjoy swimming and playing in the water. That said, it might look bland in comparison to their inground cousins.
So, what are the best things to put around an above ground pool? In general, it depends on area size, pool size, and budget. Next, it will depend on whether the pool owner wants security and privacy, landscaping, or fun elements. Of course, these can be a combination.
To help you find out what's available on the market today, we've put together this list of some of our favorite things that can go around an above ground pool and divided it into the three main categories, namely, Security (including privacy), landscaping ideas, and lastly fun things.
However, before we get to the various ideas, you should consider:
The area size around your pool
The pool size
And of course your budget
Plan ahead before you start investing in one of the following:
Security and Privacy items to put around an above ground pool
Put a fence around the pool to keep pets and children away
Keep your family safe by making sure they stay away from the water this summer. Protect them from drowning accidents, animal attacks, and other dangers around the pool area. A fence will help prevent these things from happening while still giving you access to enjoy your backyard oasis!
On Amazon there are a host of fences to choose from, simply click here to start browsing
Add a privacy screen so neighbors can't see in
Privacy screens are perfect for keeping nosy neighbors out of your business and make it easier to relax in peace. They're also great for kids who want to swim privately. You can even use them as a screen from the sun!
Lightweight and durable start browsing privacy screens here
Place a cover over the pool when not in use – this will help reduce water evaporation, saving you money on your energy bill
Ok, we get it this might not technically be a security or privacy issue – although pool covers add an extra layer of protection for small kids falling in.
That said, you can use a cover over the pool when not in use – this will help reduce water evaporation, saving you money on your energy bill. It also helps keep leaves and other debris out of the pool, which means less work for you!
Listen apart from the above, a pool cover might be the first thing you purchase for your above ground pool. It is simply a must and get yours here.
Landscaping Ideas around your above ground pool
Adding landscaping around your above ground pool can make it look like you spent thousands on a professional installation. Here are some ideas you can try:
Concrete or Pavers –
The first step is deciding if you want a concrete or paver deck surrounding the pool. Concrete is more affordable but requires more maintenance than pavers.
Pavers are beautiful and require no upkeep, but they also cost significantly more money upfront than concrete decks do.
Gravel or Rock
Add gravel or rock around your pool. This will help keep debris from floating into your pool while also making sure that the water stays clean and clear all summer long. Plus, it looks great too!
Wooden deck
Above ground pool owners often find that they have a hard time finding attractive and affordable landscaping ideas around their above ground swimming pools. And if none of the above floats your proverbial boat then why not consider a wooden deck.
This will not only increase the value of your home, but also provide you with a place to relax by the water's edge.
Bonus idea: if budget and space allow it, add an Hawaiian-style beach bar for some extra fun…now we are talking.
Fun things to add around your pool

Most probably not always the most practical, but it will enhance your swimming pleasure.
Install an outdoor heater to extend your swimming season
An outdoor heater can help keep your above ground pool from freezing by raising its temperature to about 75 degrees Fahrenheit (24 Celsius). This allows you to swim year round without having to drain or cover your pool each fall and spring. A heated swimming pool also saves on water use because you don't need to add chemicals as often during colder months since there aren't any algae growing in it! And with a heat pump system installed under our deck we're able to enjoy our own private oasis all year long at a fraction of what we would have spent building

Solar lights around the perimeter of the pool so it's easy to see at night
Solar lights around the perimeter of the pool so it's easy to see at night. This is an easy DIY project that doesn't require any special skills or tools (other than a drill). The solar powered LED lights are waterproof and can be mounted anywhere along the edge of your above ground swimming pool for extra safety and security when you're in or near the water after dark. Best of all, these solar-powered LED lights will stay lit up for 8 hours once fully charged during daylight hours without running up additional electricity costs!
Conclusion
A pool should be surrounded by the right things for your needs. The best thing to put around a pool is something that will make it work and look good for you and your family's budget.